The Saturday Gig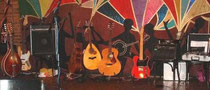 Every Sat'day night somewhere in this county
Percy Williams' van is bouncing down a track
Snakeskin boots dodge puddles in pub car parks
As his band unload the gear from the back
They're just a little local band
Playing Rave On and Promised Land
Summer Time Blues, Blue Suede Shoes
Brown Eyed Handsome Man
Benny on the bass, on the drums its Mick – he's a builder (by day)
They've held that rhythm down since 1959
That's a '60s Strat, Percy bought it new with his first wages
Showing its age but it's still sounding fine
They'll play Jailhouse Rock and Thirty Days
Baby Baby What'd I Say
Knock on Wood, Johnny B Goode
And That'll be the Day
Never hoped for the break, never dreamt of being big
Just working on the day job for the Sat'day night gig
Never needed the contract, never needed the agent's game
Cos one night in a one horse town they had their brush with fame
It was years ago they were playing way out in some small town
When the pub went quiet and everyone turned to the door
Percy put down his guitar in the middle of Honky Tonkin
And Mick let both his sticks drop to the floor
Because Chuck Berry walked inside
With Carl Perkins at his side
And someone said 'I knew it – the stories true,
It's Elvis – he's not died'
Well Carl said 'He's laying low
Don't tell anyone that you know
Given the fans the slip
Just to take this trip
And he's travelling incognito
He'd never hoped for the break, never dreamt of being so big
Just working on the day job dreaming of the Sat'day night gig
Never needed the contract, never needed the Colonel's game
Then one night in a one horse town he had his brush with fame
Then Elvis ordered a Guinness and Percy called out Memphis
Benny hit the bass and started up the band
They really rocked that night and to this day Percy just keeps quiet
'Bout what Elvis said at closing time
When he smiled and shook his hand
They played back in the USSR
With Carl Perkins on guitar
Elvis took the mike for That's Alright
Chuck duckwalked round the bar
They played Boppin at the High School Hop
Staggerlee and Blue Jean Bop
Peggy Sue and Lovin' You
Bye Bye Johnny and Let It Rock
Louie Louie and Mony Mony
20 Flight Rock and Only the Lonely
Mystery Train, His Latest Flame
Rip it Up and Bonie Moronie
An entirely true story of course - where else could Elvis return and have it remain a complete secret?
Written back in about 1980, when the Drum and Monkey was the local for the late and much missed Ronnie Lane - once of the Small Faces - who lived at Fishpool under Corndon Hill. He would sometimes be accompanied there by some of his 'heavy friends'. I'd guess the sudden mass appearance of Eric Clapton, Pete Townsend, Ronnie Lane and Ron Wood in the bar could put the most experienced pub band off its stroke for a few minutes at least.
A tribute too to the Saturday bands who still work the circuit of pubs, village halls, weddings and parties, never hoping for the big break, just pleased to have the chance to play.
I still don't quite know why it is, but every band I ever play in ends up sounding a bit like Ronnie Lane's Slim Chance…. I may not know the reason, but I'm grateful for it.

Newly recorded version 2014 for Guilty Secrets CD