The Deacons
Steve Gullick, on the Stafford Folk Music and Dance site, reviewing The Deacons performance at The Unicorn Folk Club in December 2013:
'It is all too easy to take our home grown acts for granted when we see them in various guises throughout the year at sessions and sing arounds, but when they get together, particularly as a full Deacon line up, they move into a different gear entirely. These four guys have been together for more than half their lives and you would expect that after this length of time for a certain amount of staleness or complacency to have crept in, or ill nursed grudges or just simple boredom.... but you would be wrong, you would be very wrong. The act is spontaneous, very professional (yes, it is guys) and fresh. It is a real pleasure to see them performing as they were meant to and you can see the enjoyment they get out of it themselves as much as the enjoyment they give to their audience'
- Thanks for the kind words Steve!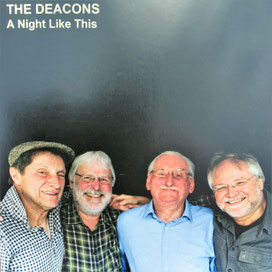 The new CD!
Our first new studio recordings for 30 years.
Now available from
The Deacons website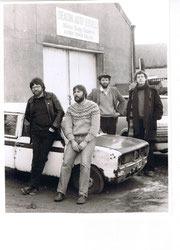 ....... And a few words from our old friend  Woz::
"The Deacons... In 1974 a crack bunch of teachers were sent to the Midlands by education authorities for crimes they didn't commit. These men promptly escaped from the maximum security classrooms of Hednesford and Codsall to the Staffordshire folk music underground.
Today, still wanted by the authorities, they survive as musicians of fortune.
If you have a problem, if no one else can help, and if you can find them, maybe you can hear them - The Deacons are coming!"                                                                                            
More accurately...........The Deacons were a popular folk group around Staffordshire and the West Midlands in the late 1970s and throughout the 80s. The line up was:
Irwin Bottomley - guitar and vocals
Dave Clarke - Guitar, banjo, vocals
Tony Cave - Double bass and vocals
Graham Bellinger - Guitar, harmonica, madolin, banjo, vocals
In 1987 they were joined by Martin Thompson - all instruments known to mankind.
They released a cassette in 1985 'Happy As Saturday' and an LP in 1987 'Using That Thing'.
They ran a hugely popular folk club at Worston Mill near Stafford throughout the 1980s.
They took an extended holiday from 1991 when Graham moved to Cheshire but reformed in 1997 to celebrate the LP's tenth anniversary. They enjoyed it so much that, despite many requests from the audience, they still play the occasional gig whenever they get the chance.
Bott, Dave and Martin can be found singing and playing in a session at the Spittal Brook pub in Stafford most Tuesdays.
In 2014, following many requests, The Deacons released 'Hurrah For The Life Of A Country Boy' - a CD of their recordings from three decades including radio sessions and rarities as well as some old favourites.
There's a lot more old stuff about the Deacons on their website www.thedeacons.jimdo.com
and in a blog on the home page of this site

Lowlands of Holland
The Deacons singing at their club at Worston Mill, Stafford in 1986
WMa1 Lowlands of Holland.mp3