Tom Doughty and Graham Bellinger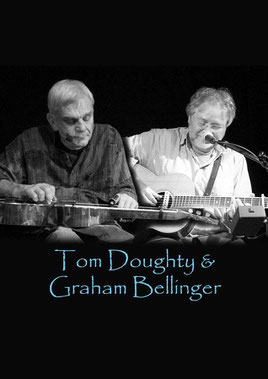 In 2013 I started playing some duo dates with Tom Doughty - singer, songwriter and master of lap slide guitar. These gigs give me a chance to play with a true musical master and to attempt to play guitar, mandolin, cello mandolin and harmonica whilst trying to improvise, read Tom's mind and predict his next move! Most of all I try not to get in the way of Tom's superb playing.
Our duo dates are on my live dates page.
What we do is well described in this review of one of our first gigs in 'Blues in the North West':
Tom Doughty & Graham Bellinger – Alexander's, Rufus Court, Chester: 29.05.13
The duo of Northwich-based slide maestro Tom Doughty, and the almost-resident at the venue, Graham Bellinger – who has been a mainstay on the Chester folk scene for a long, long time and also is a member of such bands as Root Chords and The Deportees – played a sparkling gig at Alexander's in Chester, delivering a mix of blues/folk and World music and beyond.
Tom Doughty is without doubt one of the finest acoustic/slide players in the country and has graced festival and club stages for a good many years now, his lap style playing is quite stunning, with beautiful tone to match.
Highlights of a most enjoyable evening were a cracking version of Bob Dylan's "Girl From The North Country; the powerful and hard-hitting Tom Doughty composition "Zimbabwe" and also "Life Is Just A Journey" brought the audience to their feet. Together, the two musicians combined their talents and different types of music to often improvise and veer slightly away from the norm.
Pictures & words: Bob & Carole Berg