Graham Bellinger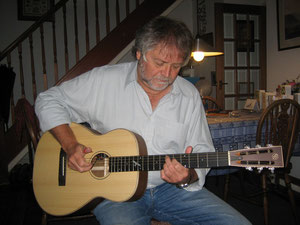 Graham has been performing at folk clubs and festivals for over 40 years. He has performed in community events, socials and parties and on local radio. He has played more pub gigs than he cares to remember and has composed and performed music for dramatic productions.
Apart from performing solo, Graham is also a seasoned band member; in the early 1970s he played in a trio in south west England with Geoff Cater and Phil Andrews, and recorded in Bristol with young jazzman Andy Sheppard. He  then moved to the Midlands, forming the topical song duo Behind the Times with Ian Hankinson. He was guitarist and singer for over 10 years with well known West Midlands folk group the Deacons, running and guesting at folk clubs and recording two LPs. In the 1990s he was in a duo with respected jazz bassist Tony Cave, formed  the roots rock band Geronimo's Cadillac and worked as part of a popular and successful duo with Steve Goodchild, guesting at clubs and festivals in Britain and Europe. Graham and Steve produced a double CD - 'The Silkstone Sessions'
Graham now performs mainly solo as well as with the Deportees which evolved from the acoustic rock and roll band Root Chords. He still finds time for gigs with the Deacons and with Ian. He is also a member of traditional singer Roy Clinging's band, Steerage Class and part of an occasional musical partnership with Tom Doughty.
This variety and range illustrates Graham's eclectic and open minded approach to repertoire and performance.
Graham has also contributed to recordings by Bill Malkin, Roy Clinging, Ian Hankinson, Angie Wright, Phil Bradley, Julie Wright, John Warburton, Terry 'The Bear' Burgin and Vocal Point.