Graham Bellinger Solo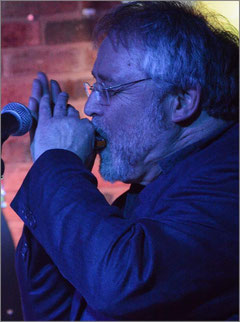 Graham sings and plays folk-based music on guitars of every variety, mandolin, mandocello, harmonica, melodeon and banjo.
His repertoire ranges from American blues, ragtime and country music to British traditional songs and material by modern songwriters, including himself. Each and every song is presented with the warmth, humour and commitment it deserves so that all types of audiences can enjoy them.
His solo work now includes workshops for clubs and festivals on the history and performance of the  blues and Americana and on guitar styles and techniques. He also sings popular songs for residents and staff at hospices and residential homes.
 Photo: Chris Noble- Williams
Graham has had a weekly residency at Alexanders in Chester for the last twenty years (!) and was resident soloist at Chester's Raven folk club for many years. He is a regular and effective host and MC for concerts, open mic nights and clubs and is known for his supportive and good humoured style.
Graham's solo recordings are:
After the Tone - Songs 1970 to 1993 (1994)
Old Blue Suit - Blues and ragtime songs (2003)
Built To Last - Songs inspired by Shropshire and the Marches (2003)
Black and White Days - Songs inspired by the 1960's Soho folk scene (2006)
Transatlantic - More blues, ragtime and rock n roll (2010)
Misbehavin' - Folk, Country and Rock n Roll favourites (2011)
Guilty Secrets - New songs (2014)
Solid Ground - Folk songs from both sides of the Atlantic (2016)