Old Blue Suit Sleeve Notes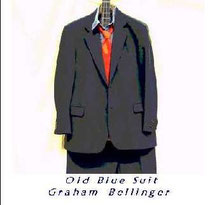 This is a collection of songs recorded live on the back porch (or in the conservatory anyway) one day in early 2003. I recorded them because I enjoy them and love to sing and play them. For the guitar workshop guys amongst us I've added one or two notes about the playing of them……but the best advice I can give is - go and listen to the people who originally made them.
Pickin the Blues is a collection of musical and verbal riffs I put together by way of an introduction. In F# capo 2 (so I'm playing E shapes)
Richland Woman Blues is by Mississippi John Hurt, a 1920s songster rediscovered in the 60s and whose Vaguard LPs were, for many of us English boys, the place we started from back then. I play in D (C shapes, capo 2)
I Ain't Got No Home by Woody Guthrie – so understated yet so powerful. Drop the bottom E to D and a little in the style of Joseph Spence.
Turn Your Money Green. Furry Lewis from Memphis recorded in the 20s but lived to appear in films in the 70s and to have a song written about him by Joni Mitchell no less. Tuning is DADF#AD, capo 2
Big Time Woman is by the wonderfully named Wilton Crawley – whose band recording of the song included Jelly Roll Morton on piano and Teddy Bunn on guitar. It also included his own truly horrible clarinet solo in what is known as the 'hot gas pipe style' (I couldn't make this stuff up - honestly). I learnt it originally from a recording by Leon Redbone. In A, (G shapes capo 2)
Hard Time Killing Floor Blues is a bleak song from Skip James who sang in an eerie falsetto and played in E minor tuning. You should hear him. I tune the guitar DADGBD and don't try for the high notes. By the way don't reach for your phone at the end – I said it was recorded live!
Big Bad Bill is a Broadway show tune from 1930 written by Jack Yellen and Milton Ager. Everyone's recorded this – Leon Redbone, Ry Cooder, Stefan Grossman….and now me folks! I try to slip a little Blind Blake rag in the middle – the nearest I come to risking a Blake piece here. It's in C
Brownsville Blues. Words from Sleepy John Estes - rather than Led Zeppelin - tune from Muddy Waters. Guitar is tuned to open G – DGDGBD.
Hard Hearted Hannah is another Jack Yellen song from 1929. I got it from an Ella Fitzgerald LP. It's great fun to play. Dropped D capo 2 and think swing bass…
Love in Vain. This Robert Johnson song has all the emotion and the economy of great poetry. Lovely chord changes too – they come from the Rolling Stones version of the song. In A, capo 2
Statesboro Blues. Bob Dylan said nobody can sing the blues like Blind Willie McTell and he was right, but that doesn't stop every boogie band around trying to do the Taj Mahal version of this song. I try to keep a bit closer to McTell's guitar work as far as my inability allows, with a few lines from his buddy Curley Weaver to lighten it up. In Eb – dropped D capo 1
The Midnight Special. A folk club favourite many years ago, though turning it into a sing-along song rather lost the anger in Leadbelly's words. I like to make it a little country sounding myself. In G.
Ragtime Millionaire by William Moore - the singing barber from Tappahannock, Virginia - is just too much fun for one man to enjoy alone. Hence I got slightly carried away on the bass strings. The Welsh guitar genius John James is responsible for the shape of this version. It's in A with the capo at the second fret. The D7 at the start is a C7 shape slid up two frets.
Come on in my Kitchen. Another gem from Robert Johnson – I think it's what isn't there that really counts. Open G again
Most of these songs were originally recorded in the 1920s and 30s in the rural South of the USA. I must admit that for me part of the pleasure in the original recordings is in listening to the voices of people whose lives and times are so different to mine, yet they can still speak for me so clearly. What's more their music put down so many markers for so much music which has followed them. Even though some of their recordings are challenging, if you seek them out and listen to them they will repay you with some insight into their world and ours.
GB May 2003